Petros Karakousis, MD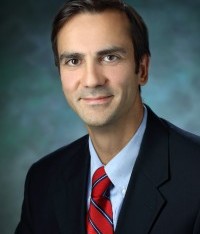 Dr. Karakousis' primary research interest is the molecular basis of Mycobacterium tuberculosis latency and reactivation. Secondary interests include preclinical screening of novel TB drugs and drug combinations in animal models of caseous necrosis, as well as development of novel molecular assays for the rapid diagnosis of latent TB infection and active TB disease, and for the detection of drug resistance.
Major research activities include studying the adaptation of M. tuberculosis to stress conditions believed to be important in the infected human host, as well as the phenomenon of phenotypic tolerance to antibiotics. In particular, the regulatory cascade involved in the mycobacterial stringent response is under active investigation. Dr. Karakousis, in collaboration with Dr. Joel Bader of the JHU Whiting School of Engineering, has undertaken a systems biology-based approach, including the use of several novel animal models of latency in combination with transcriptional, proteomic, genetic, imaging, and computational techniques, to identify host cytokine networks responsible for immunological control of M. tuberculosis growth, as well as M. tuberculosis regulatory and metabolic pathways required for bacillary growth restriction and reactivation.
The guinea pig model of TB, which forms necrotic lesions histologically resembling its human counterparts, is also being used to study the sterilizing activity of novel drugs and drug combinations against persisters, with the ultimate goal of shortening antituberculous chemotherapy. Molecular assays using blood, sputum, and urine samples are being investigated with the goal of developing rapid, sensitive, and specific point-of-care tests for TB diagnosis and detection of drug resistance. In collaboration with the Gorgas Memorial Institute of Health Studies (ICGES) in Panama, the sensitivity and specificity of Multiplex Allele-Specific PCR (MAS-PCR) is being studied for the rapid detection of isoniazid and rifampin resistance in archived, MDR-TB clinical isolates.
Dr. Karakousis received his undergraduate degree in 1994 from the Johns Hopkins University and his medical degree in 1998 from Washington University School of Medicine in St. Louis. He completed residency training in Internal Medicine in 2001 at the Hospital of the University of Pennsylvania. After completing fellowship training in Infectious Diseases at Johns Hopkins University School of Medicine, he joined the Department of Medicine faculty in 2005.
NWCS 414, parent study A5274